Warm Tip: If you want to know more information, like quotation, products, solutions, etc., please Click here ,and contact us online.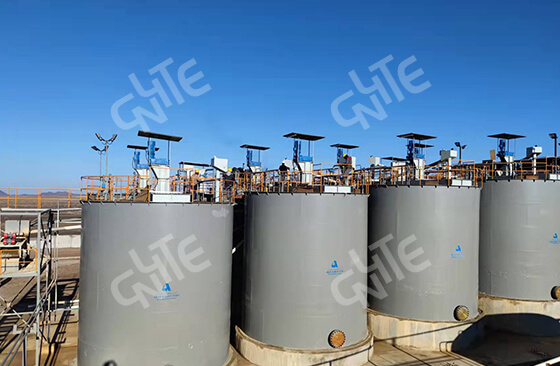 Project Introduction
Gold processing project with all-sliming cyanidation CIP process in Ghana has a processing capacity of 300tpd. The ore composition is relatively simple, belonging to the limonite mineralized fine-grained gold ore, and with deep oxidation degree and low content of harmful components, the cyanide leaching is easy. The gold in the ore exists in the form of natural gold, mainly embedded in the particle of limonite, quartz, calcite and limonite, accounting for 90.94%. Under fine grinding conditions, this part of gold is easily exposed and leached. Another 9.06% of natural gold is encapsulated by limonite, quartz and calcite. This part of natural gold is difficult to be exposed and leached even after fine grinding, which has a certain influence on the leaching rate of gold.
Gold Leaching Operation
Since it was completed and put into production in 2002, the plant has been using all-sliming cyanidation CIP process to extract gold. Its main mineral processing reagent, sodium cyanide, is a highly toxic chemical, which brings great pressure to the safety and environmental protection of the plant during the long-term production process. In order to solve this problem, the plant decided to replace the sodium cyanide with CNLITE environmental gold leaching reagent produced by YANTAI XINHAI MATERIALS TECHNOLOGY CO., LTD. in April 2012. Through the mineral processing test under industrial conditions, the ideal sorting index was obtained by using CNLITE gold environmental leaching reagent under air agitation conditions.
Process Indicator
| | | | | | | |
| --- | --- | --- | --- | --- | --- | --- |
| Reagent | Gold Grade of Leaching Residue(g/t-1) | Gold Grade of Tail Liquid(g/m-3) | Grade of Gold-loaded Carbon(g/t-1) | Gold Leaching Rate/% | Gold Adsorption Rate/% | Gold Leaching Recovery/% |
| Environmental Gold Leaching Reagent | 0.32 | 0.005 | 94.22 | 84.24 | 99.71 | 83.99 |
| Sodium Cyanide | 0.34 | 0.007 | 99.32 | 83.25 | 99.59 | 82.91 |
Note: The grade of original ore is 2.03 g/t, leaching time 17 h, reagent concentration 0.07 %, carbon density 10 g/L.